Hotel, meet apartment.
Stay Like You Live Here
Whether you're looking for a short-term hotel stay or an apartment to call home, our amenity-rich properties are perfect for both.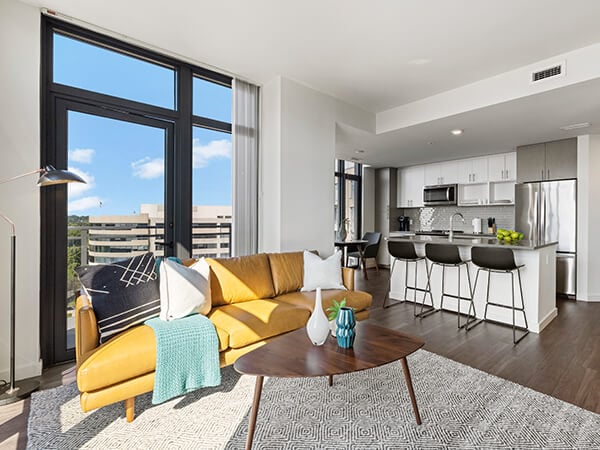 It's the smarter way to stay.
Where the best latte in town is just steps away. Where tech makes your stay seamless from the moment you arrive to the day you depart. Where the perks of a hotel meet the comforts of home. It's the best of both worlds. And it's yours to enjoy for as little or as long as you like. Now, where to?
Discover the Placemakr difference.
Experience+
We place you in the heart of vibrant communities and open our doors to curated hotel-style apartments with amenities aplenty. At Placemakr, you can experience the benefits of living like a local, no matter if you're dropping in for a night or making our space your new home.
Stay flexible.
Life's not always flexible, but we are. Whether you're staying for a day, a year, or somewhere in between, our on-site services and support are at your convenience. Take them or leave them—you call the shots. It's your stay. All we ask is that you make it yours.
Tech-ease.
From the moment you arrive to the day you depart, the power of connectivity makes for a seamless experience and a more comfortable stay. After all, you should spend your time living—not endlessly trying to connect to reliable Wi-Fi, right? Right.
Real Estate Platforms
We're committed to partnering with you to reimagine your properties and maximize their potential. After all, Placemakr was designed by developers for developers. It's time to rethink where life happens. Want to join us?
Learn more
Business Travel & Group
Business travel shouldn't feel like work. From freelancers to Fortune 500 CEOs, our hotel-style apartments have all the amenities business travelers need to succeed. This is an open invite to stay like you live here and carpe per diem.
Learn more